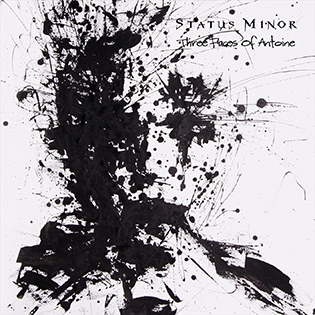 Please describie the new album musically and lyrically?
Sami: The album is very dark and mean but melodic. There are parts that you musically dive into madness but some gloomy melodys that brings you back to surface. What comes to lyrics I can explain them in just one word: violence. It´s an concept album. I don´t want to expose too much.
If you had to choose one artist (I know this is hard) but if we had to say "recommended for fans of XXXX" who would that be?
Sami: Symphony X
How does it differ from previous recordings?
Sami: Three Faces Of Antoine is more mature than Dialog and Ouroboros. And much darker and solid. For me it´s the best Status Minor album so far.
What was the goal with making this album?
Sami: To share our musical vision with the world. I really hope it will reach as many people as possible.
Any specific influences towards music or lyric subject?
Sami: When composing I had this one book in mind which name I can´t tell you yet.
How long did it take to make this album?
Sami: About six years. We have to make the next album faster.
What has the different musicians contributed to the result?
Sami: I composed the music and everyone else made their own "thing" to make it sound better.
I had a few vocal lines in mind but Markku composed the rest.